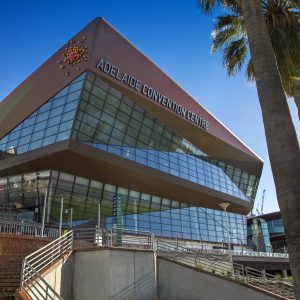 The Adelaide Convention Centre ACC celebrated 30 years in operation in 2017 with the opening of the last phase of its expansion, the East Building, designed by architects Woods Bagot.
Read more about the Adelaide Convention Centre Cladding in elZinc Rainbow® Red in our case study and watch an installation video.
The design of the East Building has emerged from the constraints of the site – including the panoramic views, circulation and the environment of the river Torrens. Its external shape and red coloured elZinc® cladding were inspired by the granite rock formations known as The Remarkables found on Kangaroo Island, near Adelaide.
Distinctive features of Adelaide Convention Centre
The building's sculptural exterior shape was made using a series of triangular faces, emulating the many crystals of a geode. To create an envelope which would fit over such complex shapes, a high-tech multi-layered system was chosen that guarantees the waterproofing and insulation required for the building to function efficiently.
This includes sandwich panels of Kingspan PIR with foam joints and nodes sealed with a weather-resistant wrapping, covered in a self-adhesive rubberised asphalt waterproof membrane, followed by air mesh mat (a structural underlay) and pigmented elZinc® cladding which adapts perfectly to the multiple folds of the building's exterior.
"elZinc Rainbow® red is lasting and malleable, able to follow the curved, folded shapes of the building. Zinc is a plentiful resource, it is non-toxic and 100% recyclable"
Adelaide Convention Centre Cladding
The outer skin of the East Building is clad with red coloured zinc shingles chosen to best evoke the rocky formations of Kangaroo Island. The 0.7mm elZinc Rainbow® Red used for exterior cladding was supplied by Zinc Ibérico in 600mm wide coils that were used to manufacture the more than 10,000 handmade elements which were fitted on site.
The fitting of the zinc elements was undertaken using the flat lock technique, also known as shingle cladding, in a vertical orientation. The cladding is secret fixed, using stainless Steel clips that hook into the hemmed edges of each shingle, that are then secured back to the substrate by corrosion resistant rivets. This creates a very subtle jump of 5mm or so between the shingles, ideal for surfaces with multiple folds.
Watch the timelapse installation video:
Stuart Uren, Principal and Technical Lead at Woods Bagot explained that elZinc Rainbow® red proved to be the perfect cladding material for the building. "It's lasting and malleable, able to follow the curved, folded shapes of the building. Zinc is a plentiful resource, it is non-toxic and 100% recyclable", he explained.
Zinc is a long-lasting light-weight constructive solution that is almost maintenance free. The sheets can be arranged in many directions and geometric shapes, offering multiple design possibilities adaptable to the desired architectural intent.
This is a summary – download the complete case study with more information about the cladding here.
More Information
Download the Full Case Study as a PDF
Participants:

Project: Adelaide Convention Centre, East Building Phase 2
Architects: Woods Bagot
Distributor: Zinc Iberico [Australia and NZ]
Contractor: Lend Lease
Installer: Cladding and Roofing Contractors Pty Ltd