Prefabricated Zinc Shingles by elZinc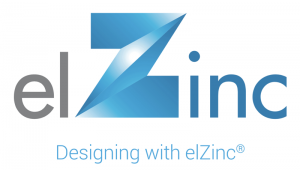 elZinc® prefabricated zinc shingles are suitable for roof coverings pitched at 25° and above, and for wall cladding at 45° and above subject to design constraints.
They are very easy to install, and can be cut, folded and edged as required at the boundaries. View our case studies and gallery below for examples.
Zinc shingles can be installed over a ventilated or non-ventilated roof construction, depending on the requirements of your project. The zinc shingles require a continuous support behind them, however all fixings are hidden.
The shingles (or tiles) are fabricated using elZinc® titanium zinc alloy rolled in accordance with EN988 and elZinc ́s own quality standards, which gives them excellent corrosion resistance (and therefore durability), high malleability, and good soldering characteristics. They are machine manufactured using a modern stamping and bending process which ensures each tile is exactly the same as the other, making installation easier and the final result absolutely uniform. Zinc shingles are available in the complete elZinc® range of finishes
The elZinc shingles are produced using cutting edge technology to meet their rigorous quality protocol. it is due to these high standards that elZinc offer a Lifetime Warranty on all their elZinc Alkimi finishes reflecting the absolute confidence they have in their products.
Benefits
elZinc zinc shingles offers many benefits including:
Lifetime finish warranty on the elZinc Alkimi range
Stunning range of colours
Extremely cost effective
All the performance qualities of titanium zinc
Suitability for highly polluted and coastal areas using elZinc Advance.
Below are the prefabricated shingle types available; if you require a bespoke shingle service please contact us.
Square tile
A square tile with a polystryrene backing giving a structured bold feel to the cladding.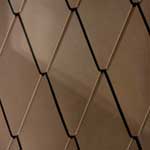 Rhomboid tile
A clean, elegant and slender tile that is equally at home in traditional or modern architecture.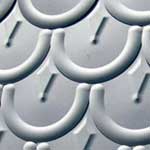 Rounded fish scale tile
An elaborate traditional zinc tile echoing the styles of historic European architecture.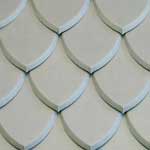 Pointed fish scale tile
A simpler traditional tile for a more discrete look.
elZinc ALKIMI Finishes
elZinc Natural
elZinc Slate®
elZinc Graphite®
elZinc Crystal®
elZinc Lava®
elZinc Oliva®
elZinc RAINBOW Finishes
Beautiful, smooth rolled titanium zinc that over the course of time develops a unique charm by the progressive patination of roof and façade cladding.
Blue
Green
Brown
Black
Gold
Red
ELZINC ADVANCE Finishes
For corrosive environments.
elZinc Slate®
elZinc Graphite®
elZinc Crystal®
elZinc Lava®
elZinc Oliva®