Natural and Pre-weathered Zinc by elZinc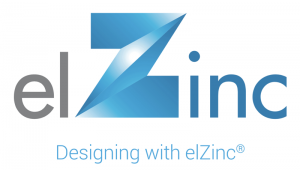 elZinc is the brand name of Asturiana de Laminados S.A., a Spanish supplier of Zinc materials established in 2006 and one of the worlds three most important producers of zinc strips and sheets. elZinc is supplied to over 35 countries worldwide.  
elZinc Alkimi is a range of titanium rolled zinc which offers a variety of very competitive finishes from Natural and pre-patinated matt grey elZinc Slate, to a range of pre-weathered surface treatments which provide a sophisticated palette for the specifier to choose from, with the confidence that all the qualities of the natural zinc properties are retained. Unique to the metal roofing and cladding market, elZinc are now offering a Lifetime Warranty on their elZinc Alkimi range, the first of its kind and the only warranty that covers your projects for life.
elZinc Rainbow is a stunning range of pre-weathered, coloured zinc created by applying mineral pigments to smooth rolled titanium zinc. The 35μm organic coating provides additional anti-corrosion protection.
elZinc has also developed elZinc Advance®  to provide additional protection to roofs and facades. Specifically designed to be used in coastal environments, elZinc Advance®  has a protective coating which provides a barrier to salt damage and allows the salt to be washed off so it cannot eat into the metal. elZinc Advance®  broadens the technical potential of zinc whilst leaving its appearance unaltered. This technology is available over the whole elZinc pre-weathered zinc range.
elZinc is also available in prefabricated shingles – see the dedicated page here.
Benefits
elZinc zinc offers many benefits including:
All the performance qualities of titanium zinc
Stunning range of colours
Extremely cost effective

Lifetime Warranty available on the elZinc Alkimi range

elZinc Advance suitable for highly polluted and coastal areas
Also available in shingles
elZinc ALKIMI Finishes
elZinc Natural
elZinc Slate®
elZinc Graphite®
elZinc Crystal®
elZinc Lava®
elZinc Oliva®
elZinc RAINBOW Finishes
Beautiful, smooth rolled titanium zinc that over the course of time develops a unique charm by the progressive patination of roof and façade cladding.
Blue
Green
Brown
Black
Gold
Red
ELZINC ADVANCE Finishes
For corrosive environments.
elZinc Slate®
elZinc Graphite®
elZinc Crystal®
elZinc Lava®
elZinc Oliva®