Aluminium roof and facade systems by Prefa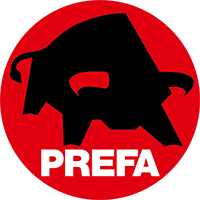 PREFA Aluminium Products GmbH is a well-established Austrian company with a history in the successful development, production and marketing of aluminium roof and facade systems of over 70 years long. The company makes over 4,000 high quality products and employs more than 500 people. PREFA is part of a group of companies, which with over 8,100 employees and over 46 production sites worldwide.
Prefalz® and Falzonal® are coil coated aluminium strips which are highly pliable and therefore easy to shape. For Prefalz® P.10 colours PREFA offers a colour warranty up to 40 years.
Both products are hugely versatile and suitable for a range of standing seam roofing and cladding purposes. Each are available in a wide range of colourways.
Benefits
Both systems are
Available in a range of standard colours (see below or our product finder).
Versatile to use – from arched roofs to complex roof extensions, domes or large-scale roofs.
Lightweight and easy to work with a strong, load bearing capacity.
Non-combustible (A1).
Long service life – non-corrosive.
Fully recyclable.
Available with a comprehensive set of system accessories.
Also available in Shingles.
Prefalz®:
0.7mm coil coated aluminium strip available in 19 colours with a rear protective paint surface.
Available with smooth or stucco surface finish.
Smooth surface finish is also available with protective film on request
Approximately 2.3 kg/m² roof surface with Prefalz® 500, and 2.2 kg/m² roof surface with Prefalz® 650.
Workable in sub-zero temperatures (allows for expansion).
Does not suffer from heavy metal erosion.
Falzonal®:
0.7mm coil coated aluminium strip with a protective painted rear surface.
Available in plain and metallic colour shades
Approximately 2.2kg/m² roof surface with Falzonal 600
Coated with a PVdF coating (80/20) which is UV resistant and environmentally sound.
Photos by PREFA | Croce & Wir
PREFALZ Finishes
Thanks to its malleability, Prefalz® is more pliable than most comparable folding materials. Planners can use it in many creative ways on roof and façade areas.
P.10 Prefa White
P.10 Plain Aluminium
Metallic Silver
P.10 Light Grey
P.10 Zinc Grey
Patina Grey
P.10 Stone Grey
P.10 Anthracite
Bronze
P.10 Brick Red
P.10 Oxide Red
P.10 Brown
Black Grey
P.10 Nut Brown
P.10 Black
P.10 Patina Green
P.10 Moss Green
FALZONAL PVDF Finishes
Falzonal® colour aluminium has been specially developed for roof & façade applications using sheet metal techniques.
Stainless Style Bright
Weathered Clear Varnish
Bright Metallic (Similar to RAL 9006)
Light Grey (Similar to RAL 7035)
Standard Grey (Similar to RAL 9007)
Tin Grey
Zinc Grey
Light Zinc
Anthracite Grey (Similar to RAL 7016)
Standard Quartz Grey (Similar to RAL 7039)
Matt Dark Grey
Matt Light Grey
Carbon Black (Similar to RAL 9004)
Pure White (Similar to RAL 9010)
Light Ivory (Similar to RAL 1015)
Pearl White (Similar to RAL 1013)
Broom Yellow (Similar to RAL 1003)
Maya Gold
Savannah Beige
New Copper
Rosewood Pink
Copper Brown (Similar to RAL 8004)
Victorian Brick Red
Coffee Brown (Similar to RAL 8024)
Anodic Brown
Crimson (Similar to RAL 3002)
Opal Green
Grey Green (Similar to RAL 6021)
Reseda Green (Similar to RAL 6011)
Olive Green (Similar to RAL 6003)
Mint Green (Similar to RAL 5009)
Pastel Turquoise (Similar to RAL 6034)
Turquoise Blue (Similar to RAL 5018)
Gentian Blue
Dusty Blue (Similar to RAL 5014)
Azure Blue (Similar to RAL 5009)