Project: Private Pool Extension
Client: Private Client
Architect:  Sandra Murray & Associates
Main Contractor:  RS Burgess & Sons
Specialist Roofing and Cladding Contractor:  MH Midlands
Material: elZinc Rainbow Red/Rojo standing seam, cellular glass insulation
Value: Undisclosed
Completion Date: 2022
Roofing a swimming pool in zinc is a challenge, but it can be achieved with the right technical support. This swimming pool in the Cheshire countryside has a highly refined, shallow-pitched, elZinc Rainbow Rojo/Red zinc roof from SIG Zinc & Copper with matching fascias and rainwater goods which carefully blend with the local sandstone.
About the Project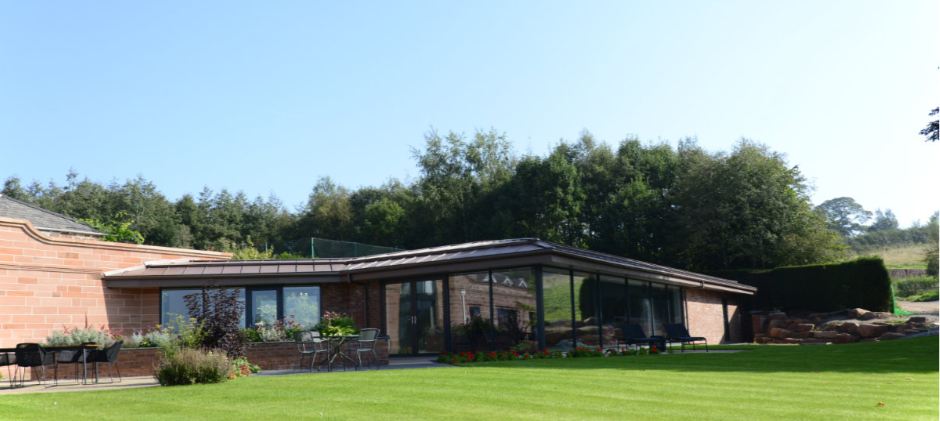 Garden elevation
Located close to Cheshire's picturesque Sandstone Trail in an Area of Special County Value, this striking residential extension scheme adds a swimming pool, sauna and gym to a converted farmhouse.
The brief for architect Sandra Murray & Associates was to produce an understated elegant design with minimal visual impact. Architect Sandra Lea-Murray wanted the building to hug the ground and blend in with the natural colours of the surrounding earth, stone and landscape features. She designed a low-pitched roof with a ridge hight below that of the adjacent tennis courts, ensuring the existing farmhouse was not overpowered in terms of scale.
"A metal roof would allow me to design a low pitch, and the use of a traditional standing seam detail would not be of unusual appearance in a countryside location. It was felt that the design could have a similar appearance to a traditional brick building but with more sophisticated styling."
Zinc roof design
Murray looked at several roof finishes before deciding to use Zinc. elZinc Rainbow from SIG Zinc & Copper was chosen for its guaranteed appearance over time – an important requirement for the planning officer in terms of protecting the Area of Special County Value setting.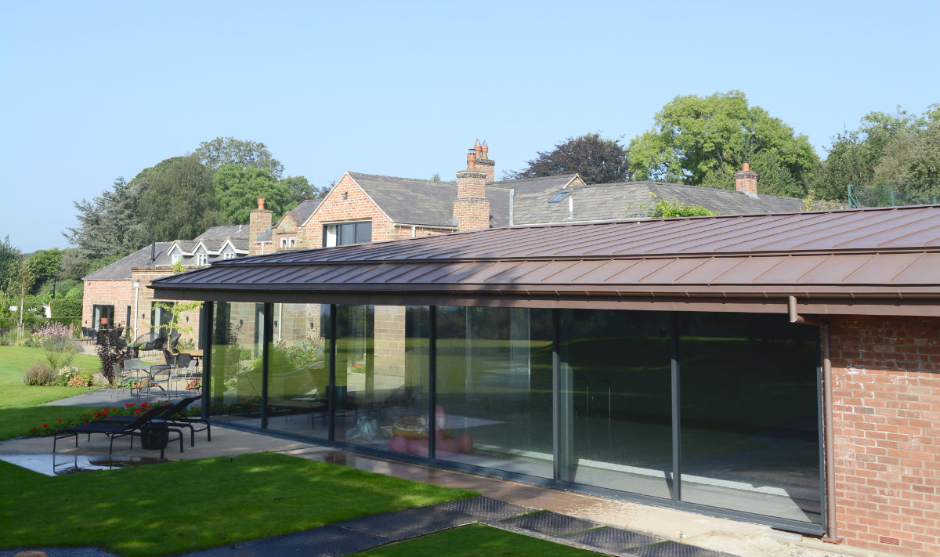 The elZinc Rainbow Rojo/Red roof is enhanced with matching fascias and rainwater goods
elZinc Rainbow incorporates an organic coating to provide anti-corrosion protection. It also comes in a range of colours, and Murray selected Rojo/Red to imitate a weathered copper finish and to marry with the Cheshire red sandstone that can be viewed from the Sandstone Trail.
The fascias, gutters and downpipes are all formed out of the same zinc finish to maintain the simplicity and elegance of the roof design. This also reduces the number of materials in the palette, resulting in a strong, uncomplicated design that does not dominate in elevation.
Zinc Roof over a Swimming Pool – the challenge
The potentially corrosive atmosphere of a swimming pool is not the ideal environment in which to install zinc. In these unfavourable conditions, condensation can easily occur within the walls or roofs of a building especially in these high humidity areas. The design of the roof system therefore needs to include an entirely reliable moisture-proof barrier situated under the metal sheeting.
Cellular glass insulation is really the only option for this type of building. The cellular glass panels are 100% vapour tight which together with appropriate build up and detailing, stops any vapour drive from the building. The build up here, developed with SIG Zinc & Copper, comprises two layers of FOAMGLAS insulation, topped with a torch-on-felt and finished with a breather membrane. The resulting system produces the required U-Value of 0.16 W/m²K, with the reassurance of a robust water and vapour-proof barrier.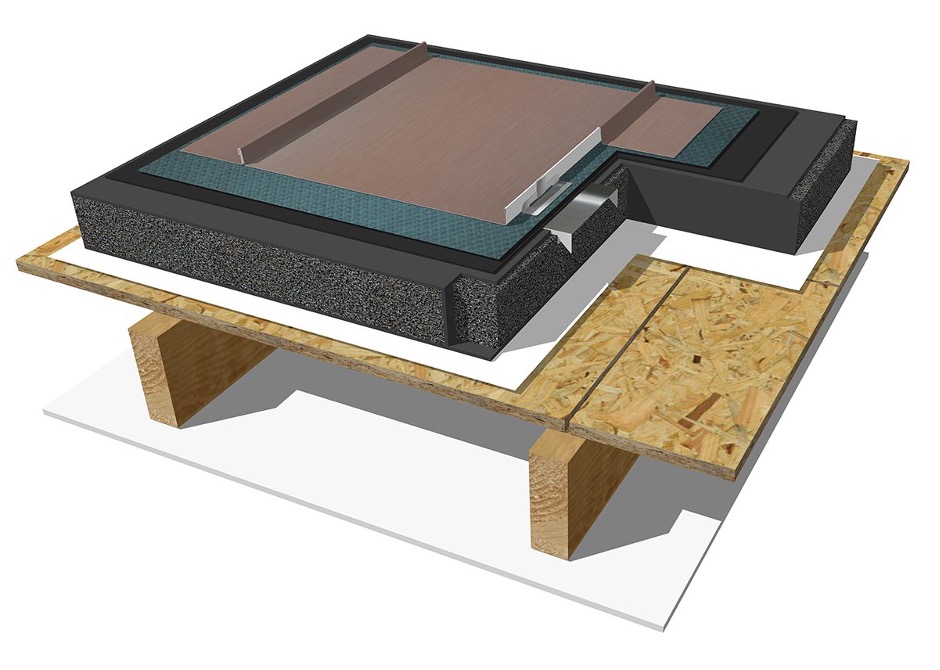 The roof build-up comprises elZinc Rainbow standing seam roofing with seam clips, a breather membrane, torch-on felt, fixing plates, and cellular glass insulation
Procurement, Construction and Warrantees
SIG Zinc & Copper have worked with Sandra Murray & Associates on several projects, providing technical support and suggesting product solutions. On this scheme the architect was responsible for producing the design drawings up to planning stage. Once approved, the project then went to tender as a Design and Build Contract with the main contractor RS Burgess & Sons subcontracting the roofing to specialist MH Midlands.
SIG was involved in the initial product selection and then worked with MH Midlands to produce the detailed design drawings for installation on site. elZinc is supplied in coils and profiling of the product is carried out on site by the contractor. Gutters and downpipes in this instance were fabricated from the same material by a specialist fabricator.
The individual products used in this roof system come with manufacturer warranties, of course. However, the advantage of sourcing the products and the design advice from us is that the finished roof can be supplied with a system warranty from SIG of up to 30 years.
Advice for Architects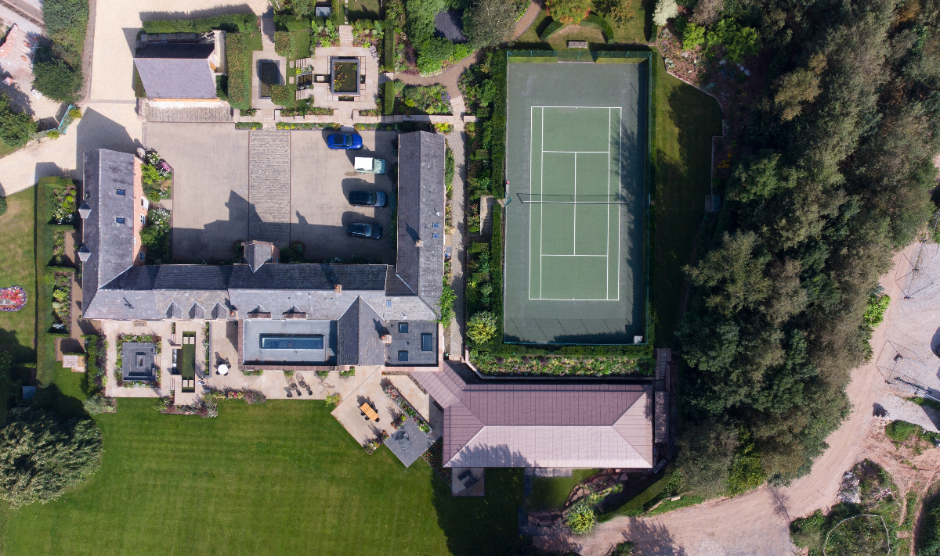 As a supplier rather than a manufacturer, SIG are 'product agnostic' and can specify products that meet the precise requirements of the project, be it a challenging environment or cost pressures. This includes providing a detailed NBS specification, designing the whole build-up and ensuring product compatibility. With a network of accredited and trained contractors they could also recommend one installer to carry out all the work and issue system warrantees.
More Information
Use our Product Finderto choose the right metal for your project.
Thinking about specifying coloured zinc? Talk to the experts! Call SIG Zinc & Copper on 0844 443 4772 or contact us through the website.
Photography Credits: Terrence Smith Photography.
We are the team at SIG Zinc & Copper. We design and supply zinc, copper, aluminium and stainless steel roofing and cladding products all over the UK. We also publish blog posts! We're part of SIG Roofing. With over 120 branches nationwide, SIG Roofing is the largest supplier of roofing materials in the UK, providing our customers with impartial advice on the right roofing solution for their projects.