Following the successful completion of the Bolton College STEM Centre with its beautiful angled seams, we have interviewed Lee Smith, contracts manager for Longworth Building Services, about the key things to consider when looking at specifying this kind of cladding. Here are his top tips for a successful project.
Consider the Substrate and get your Details Right
As with all metal cladding, the most important basic rule is to ensure that your choice of substrate, roof build up and detailing complies with manufacturers recommendations. Is the substrate suitable for the product? If not there may be a risk of catastrophic failure.
Different areas of your project may also require different substrates, a pool area for example, where there are high levels of humidity. Whilst there are standard details available, in order to ensure you are protected, you should not simply rely on these but consult your supplier and manufacturer for their advice and detailing, making sure it is up to date. A good supplier will provide you with good quality design support for free, and provide commensurate guarantees.
Decide which direction you want the Angled Seams
Standing seams are asymmetrical, so consider the direction of your standing seams before you work out the detail of the cladding. Otherwise water running off the cladding will run into the seam (the undercloak) rather than over the seam (the overcloak).
Vertical Zinc Cladding Seams are different than Roofing Seams
The way vertical cladding seams are finished are different to roofing seams. Roofing standing seams will be double lock whilst on cladding they will be single lock. As a result there is a slightly different aesthetic effect, which you might want to consider in your design.
Make sure your client is aware of Oilcanning effect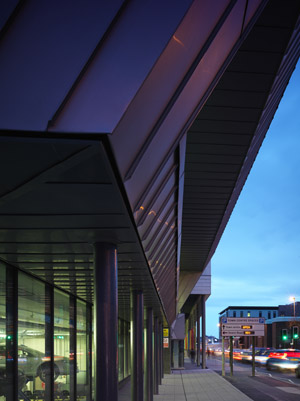 Standing seam metal cladding is thin, and in the process of rolling the coil through a machine, a certain amount of ripple or 'quilting' is inevitable. This quality is often very popular with some architects and clients, but others won't want it. You can reduce (but not completely remove) the oilcanning effect by reducing the seam centres. Normal standing seams will be at 500-600mm, but on Bolton College STEM Centre the centres were reduced to 425mm.
These pieces of advice add up to one clear message. Metal cladding is a specialist skill, requiring skilled installers, skilled designers and proper choices in terms of substrate, detailing and installation.
More Information
Got any questions about standing seam zinc cladding? Ask them in the comments below or get in touch via the contact form or on Twitter.
Installation Photography by Longworth Building Services; Completed photography by IBI Group, used with permission
We are the team at SIG Zinc & Copper. We design and supply zinc, copper, aluminium and stainless steel roofing and cladding products all over the UK. We also publish blog posts! We're part of SIG Roofing. With over 120 branches nationwide, SIG Roofing is the largest supplier of roofing materials in the UK, providing our customers with impartial advice on the right roofing solution for their projects.