The Alchemist at The Bund, Salford Quays, Manchester, an innovative cocktail bar and restaurant, scooped the Industry Choice Award at the 2018 UK Roofing Awards.
The new build bar has been described as re-writing the rule book in terms of what can be done with zinc, the material the structure is clad in.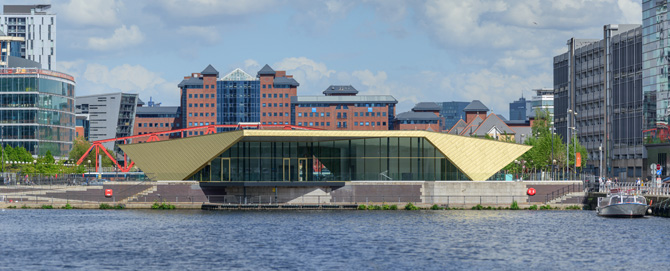 The project drew heavily on the expertise of SIG Zinc & Copper and installation specialists Longworth Building Services, who employed ground-breaking techniques and strong craftsmanship.
Given the bar's location – a popular walking route between MediaCityUK and Michael Wilford's The Lowry – it needed to be a design icon, so Reid Architects conceived a stunning folded gold roof and walls.
The choice of metal cladding exactly suited the precise geometry of the building form, and zinc on all surfaces hit the brief for visual quality for all angles, including the roof. The team explored colours other than traditional grey, but when Living Ventures (owners of the bar brand) saw the gold version, it was fixed immediately as the right choice.
The finished building is clad in elZinc Rainbow Gold Protect over an Admaster composite panel which provides both insulation and acoustic attenuation.
Find out more about the Alchemist project and a full gallery of photographs here .
We are the team at SIG Zinc & Copper. We design and supply zinc, copper, aluminium and stainless steel roofing and cladding products all over the UK. We also publish blog posts! We're part of SIG Roofing. With over 120 branches nationwide, SIG Roofing is the largest supplier of roofing materials in the UK, providing our customers with impartial advice on the right roofing solution for their projects.