Have you specified Zinc roofing or cladding in non-standard sizes and found it impossible to get a good price for its installation?
Do you work on small building projects and feel that metals like zinc and copper are out of reach because local contractors can't source a small quantity?
Zinc roofing and cladding can be expensive, and not because it has a long service life, or because you're paying for a beautiful, flexible architectural finish. The reason is supply.
Why is Zinc Roofing Expensive?
Obtaining Zinc for building projects has always been influenced by the supply of zinc sheeting, normally in 100kg coils. With a product costing thousands of pounds a tonne, a 100kg coil is expensive, and if you need 110kg for a project your contractor may end up having to buy 200kg.
Equally, if you're looking for non-standard tray or panel sizes, or a small quantity for a bespoke extension roof, contractors may even refuse to price, because it simply wasn't worth their while.
We've been aware of this issue for some time and being one of the largest material suppliers in the UK, we have worked with our partners to develop a supply chain based solution.
Instead of the material supply tail wagging the dog, architects, specifiers and contractors will be able to get the materials they want in the format that suits their project, installed at a reasonable cost.
Benefits of UK Zinc Fabrication
Fabricating zinc roofing and cladding in the UK to precise needs has benefits for all the supply chain:
Clients – don't have to pay for zinc they don't need, and can support UK industry at the same time;

Architects – can use zinc on their projects in the way they want more easily;

Roofing Contractors – can price for the product the client wants, and don't have to hold expensive stock; and

Main Contractors – will find it easier to compete for contracts using zinc, with the savings UK fabrication delivers.
Zinc roofing costs more to specify because your contractor has to pay extra to get what you want, but not any more. Now you can get what you want, for a good price.
Our new Zinc Fabrication Service – reducing waste, saving money
SIG Design & Technology have partnered with established Zinc manufacturer Nedzink, metal handling expert Steadman & Sons and fabricator Metal Solutions to provide titanium zinc products fabricated in the UK to specific requirements – any coil size your contractor needs, no over supply and no waste.
The zinc is manufactured in the Netherlands, fabricated in the UK and delivered through the SIG plc national supply chain.
Here's our amazing new de-coiler machine which makes this possible – the only one in the UK!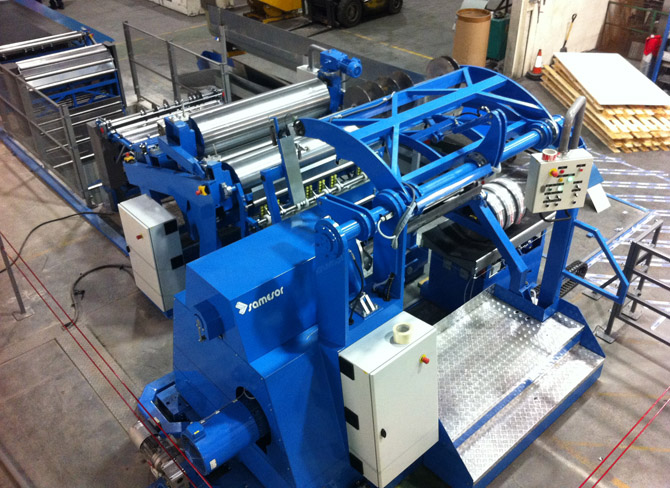 Zinc Products and systems available include
Roofing and façade panels;
Coils and strips at bespoke sizes (from 50mm up to 1250mm wide);
Bespoke zinc sheets, (100mm to 3000mm);
Shingles;
Guttering systems; and
Specialist architectural fabrications; and
Hired work undertaken, so if you need your own material slit down, we can help.
As always, SIG Design & Technology will provide a complete impartial design and supply service, from determining performance criteria and the ideal solution through technical design and detailing, specification, material supply and guaranteed installation by DATAC approved contractors.
Low Cost Zinc Roofing – How to Find out More
Zinc is a beautiful material, and we want you to be able to use it on your buildings. Lets talk about making that happen.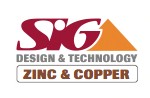 Get in touch with us to discuss your zinc project and we'll introduce you to Category Manager Simon Walker and BDM Paul Cousins who can answer all your zinc questions.
We have a dedicated Zinc and Copper website with more details of the service.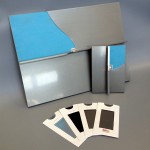 Over the coming months we will be sharing examples of projects where our Zinc Fabrication Service has cut costs. Subscribe to the blog so you don't miss a thing.
Read more answers to common questions about Zinc from our post back in March.
Want to see the Zinc in the flesh? Apply for a set of samples here.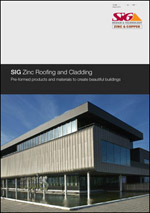 Download the Zinc Roofing and Cladding brochure (pdf)
Download the Zinc gutters and ancillaries catalogue (pdf)
See more downloads including technical handbook and datasheets on the Zinc and Copper website
Have you got a question about Zinc roofing and cladding? Why not ask it in the comments below, and we'll see how we can help.
We are the team at SIG Zinc & Copper. We design and supply zinc, copper, aluminium and stainless steel roofing and cladding products all over the UK. We also publish blog posts! We're part of SIG Roofing. With over 120 branches nationwide, SIG Roofing is the largest supplier of roofing materials in the UK, providing our customers with impartial advice on the right roofing solution for their projects.