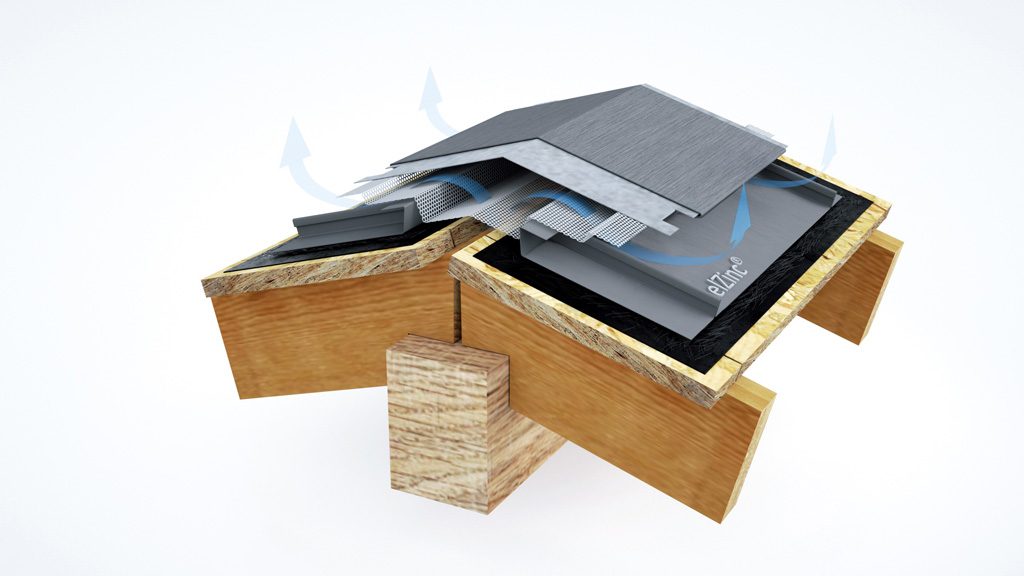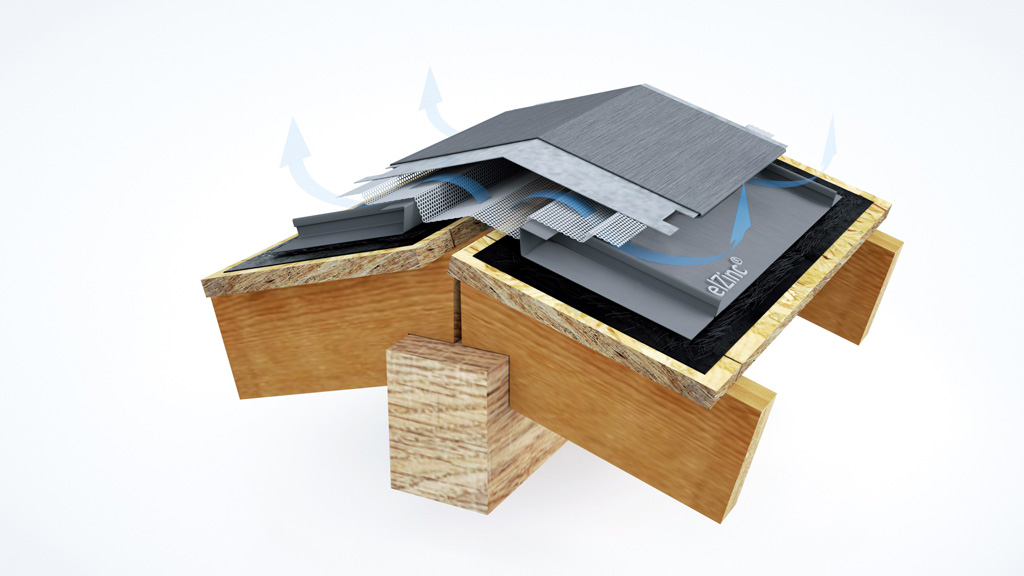 Last month we published an article about the hidden eaves box gutter on the Red Zinc Clad House at Blunham, Bedfordshire.  This time we're looking at the flat ventilated zinc ridge detail which was used. This article is about ventilated zinc ridge details, what makes this one special and what to bear in mind, together with elzinc's details in 2D, 3D and interactive 3D format for you to use in your projects.
When to Use a Flat Ventilated Zinc Ridge Detail
When you're designing a double pitch standing seam zinc roof, you'll need to consider the ridge carefully. If the roof is to be ventilated, a ventilation air gap (normally of minimum 50mm if in linear form) will need to be provided at the ridge and eaves.
Ventilated zinc ridge designs are traditionally rather lumpy affairs, with a tall cowling across the top, making the roof stop rather abruptly rather than allow the surface to flow naturally over the top and down the other side. If you want a flatter, smoother effect, a different detail is necessary.
In the Red Zinc Clad house at Blunham, the client and architect wanted the whole zinc roof and walls to seem like one seamless whole, hence the use of a hidden box gutter detail and this flat ventilated ridge.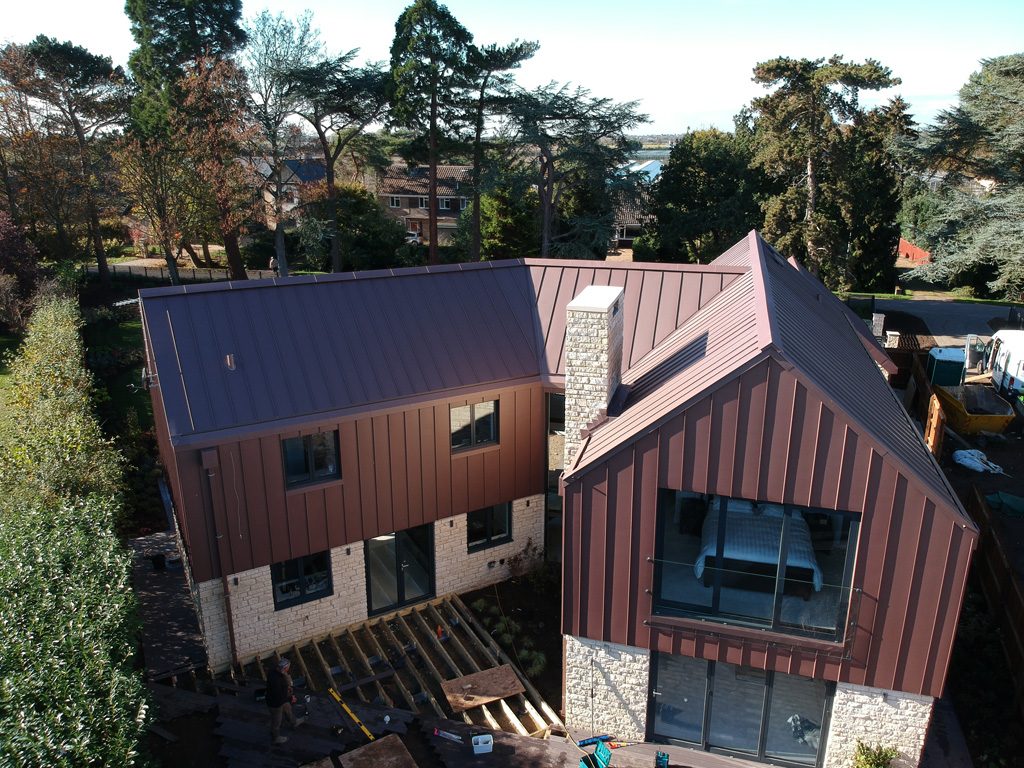 Richard Lavers of RFL Metal Roofing installed the Zinc on the house at Blunham. He's familiar with other solutions for flat ventilated ridges but found that he wasn't happy that the ventilation gap (provided with a foam gasket in that case) was reliable. This detail by elZinc is in his opinion superior, providing a better air flow.
What to Consider when designing a Ventilated Ridge in Zinc
Choose the roof build up which will suit your design, the constraints and the site conditions. Three typical build ups are discussed in this post.
Decide on the profile you want to achieve – are you looking for a flat ridge or something more articulated?
Pick the appropriate detail from the range of approved details available.
elZinc have fourteen different ridge configurations available including eleven ventilated options which should satisfy the most demanding client and give you peace of mind.
Remember that SIG Zinc and Copper provide a free specification service, free detailing and support for your metals project. Just get in touch for advice and we'll do the heavy lifting.
Flat Ventilated Ridge Detail
The detail adapted for the house at Blunham is shown here, which allows for a clean joint between ventilated hip and ventilated ridge.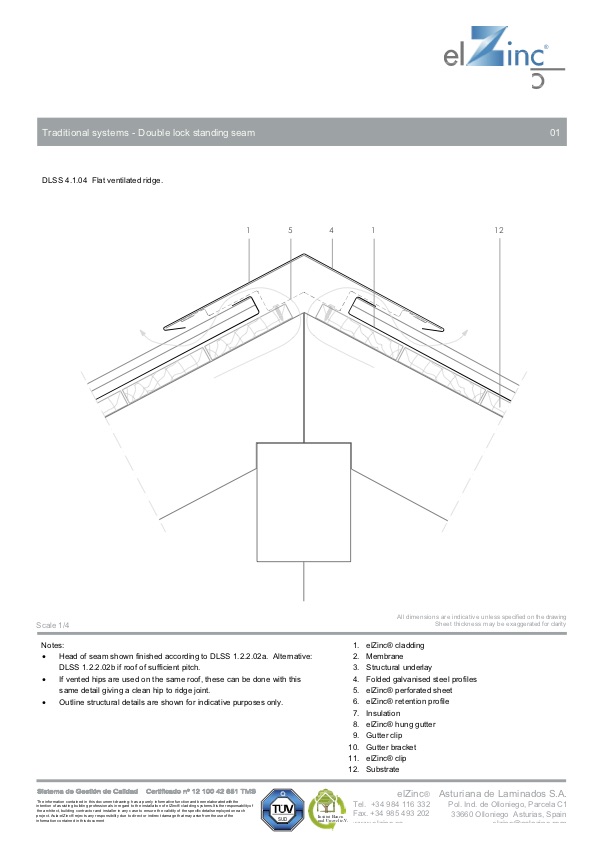 Here is an interactive 3D renders of the detail shown over softwood boarding:
And here is the same detail over OSB Board with a Structural Overlay:
In the version at Blunham a 1mm formed galvanised steel clip sits on the ridgeline every 400mm, above the rafters, and is screwed into the substrate. A continuous folded galvanised profile gives full cover of the roof sheet on either side, and then the elZinc ridge cap locks everything into place with a continuous airgap. Under the ridgeline the roof covering has a 65mm upstand and a 20mm turnout at the top, which stops any driving rain. The result is a neat, low finish without any compromise on ventilation.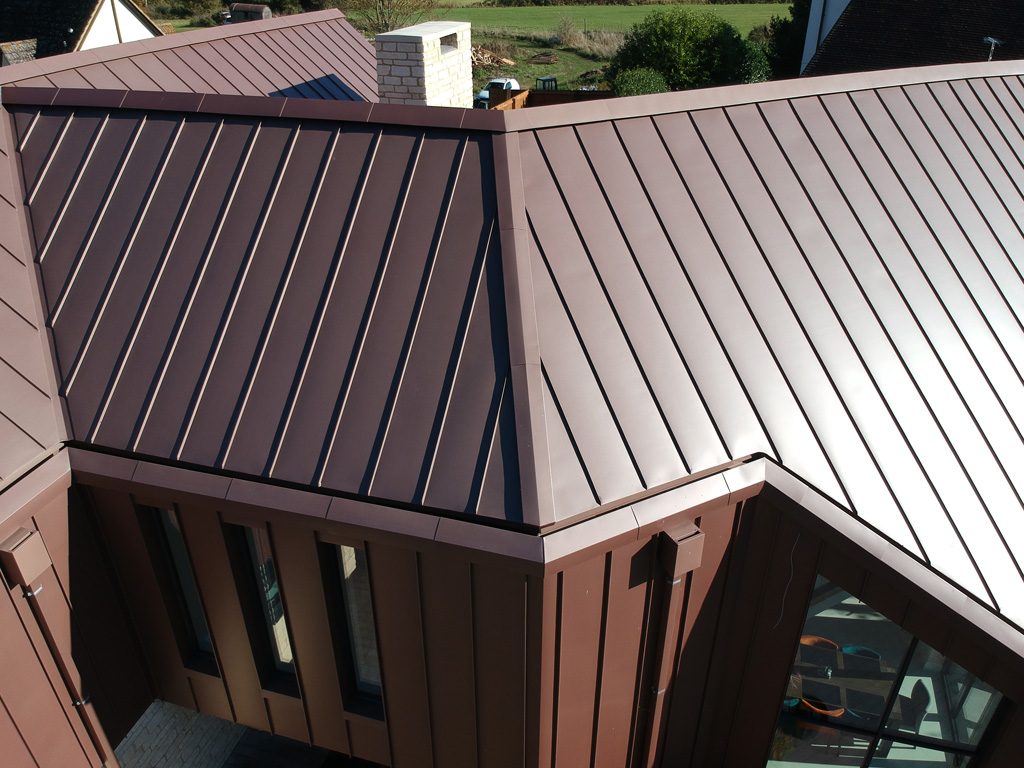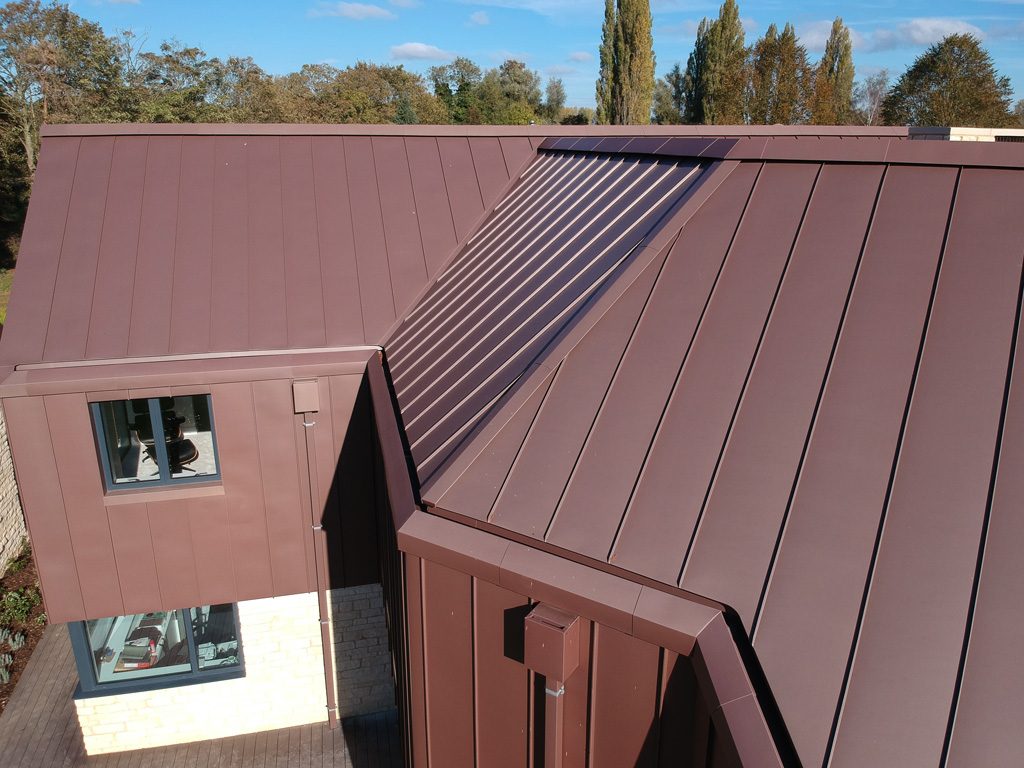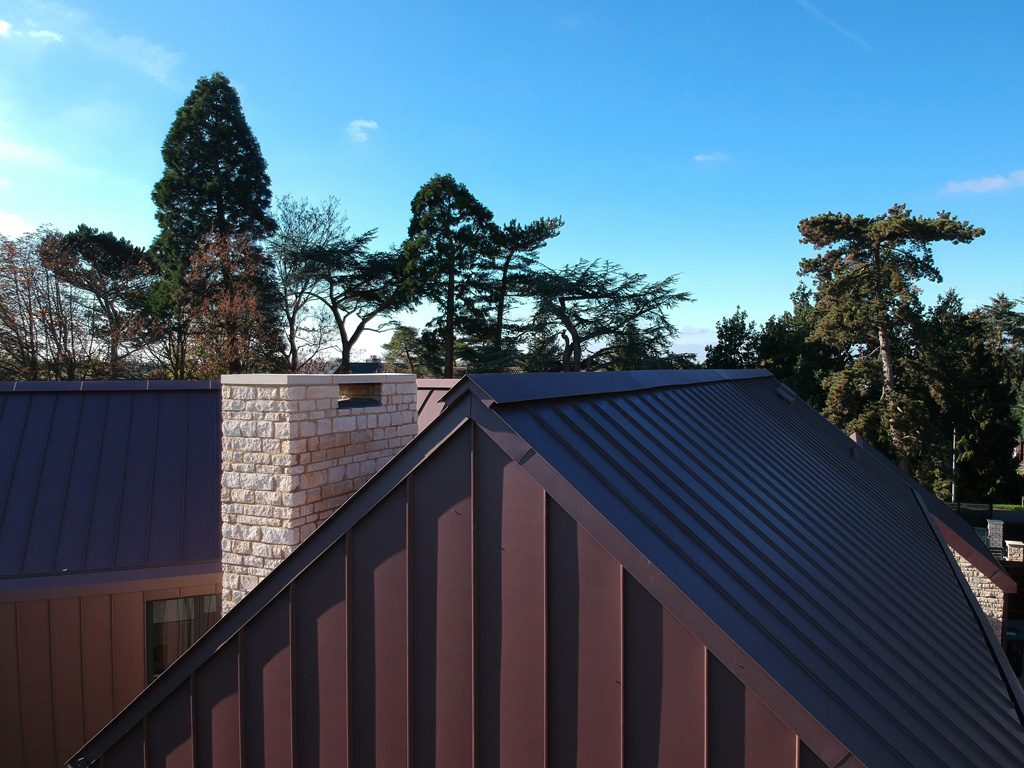 More Zinc Ridge Details
Our friends at elZinc have published fourteen zinc ridge details:
Ventilated ridge (traditional)
Semi-flat ventilated ridge
Square ventilated ridge
Square ventilated ridge (variation)
Flat ventilated ridge
Overlapped ventilated ridge
Ventilated semi-hidden ridge
Square batten ridge
Tapered batten hip
Tee seam ridge
Standing seam ridge
Vented mono pitch ridge
Vented mono pitch ridge (with zinc fascia)
Vented mono pitch ridge (with zinc flat lock fascia)
These are just some of the comprehensive set of 550 architectural details for zinc roofing and cladding you can now download from their website.
Zinc Roofing and Cladding Details are available:
Shown over two different substrates, for example softwood board and OSB/plywood. Some composite boards have adhesives which may be corrosive to zinc, so which board you use will affect the detail and the build-up;
In PDF and DWG format, with a plot styles file to ensure correct detail reproduction;
With notes showing the limits of application and alternatives, and
With links to similar details to assist in detail choices
As interactive 3D Renders to help you describe the detail to your clients.
More Information
We are the team at SIG Zinc & Copper. We design and supply zinc, copper, aluminium and stainless steel roofing and cladding products all over the UK. We also publish blog posts! We're part of SIG Roofing. With over 120 branches nationwide, SIG Roofing is the largest supplier of roofing materials in the UK, providing our customers with impartial advice on the right roofing solution for their projects.