Shingles – small individually attached pieces of metal sheet, are becoming increasingly popular as a roofing and cladding material. In this article we look at what architects need to know about zinc and copper shingles for roofing and cladding projects whilst providing access to additional resources.
Choosing your Zinc, Copper or Stainless Steel Shingles
Shingles are available in zinc, copper and stainless steel, and in all finishes, including Nedzink, elZinc, Aperam and KME TECU. This means you can have them in natural or weathered zinc, copper, copper alloys and tin plated stainless steel, and in green, gold, bronze, red, brown or blue. See all the finishes in one place in our product gallery.
All shingles are manufactured and supplied ready to fit. Either bespoke sizes and shapes can be made, or there are standard versions available.
Four Design Benefits of Zinc, Copper and Stainless Steel Shingles
Using shingles on your metal roof has several benefits.
1. Shingles can cover roof and walls
Using shingles on both roof and walls of all or part of your building can produce a very pleasing homogeneity. For example on the Amphibious House, the square shingles cover both roof and walls and a bespoke junction detail helps create the illusion of a single surface, enhanced by the fully glazed end elevation.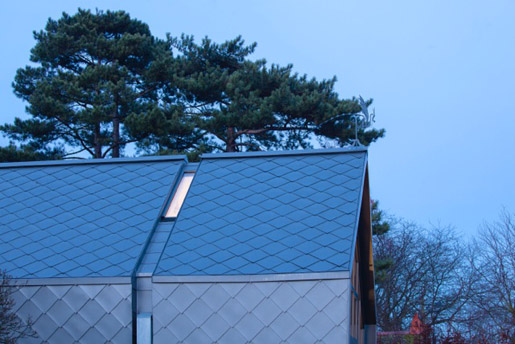 Baca Architects' Amphibious House used NedZink NOVA shingles for roof and walls with a bespoke eaves detail. Photo: Tim Crocker
2. Shingles can cover unusual shapes
If you've got small or tricky areas to cover, shingles can be a great solution. They are traditionally used in small areas between windows, but they can equally have a stunning effect on modern buildings such as NorthBrook College in Worthing where they clad the walls and soffits at the West Durrington Campus.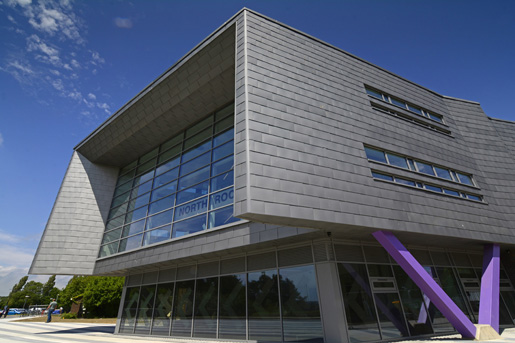 Northbrook College Worthing, unusual forms with NedZink NOVA zinc shingles to walls and soffits. Photo: Terence Smith Photography
3. Shingles can be used on curved surfaces
Once roof and walls can become one continuous surface, we're able to cover curved forms with ease. The smaller the shingle, the smaller a radius can be covered. Shingles come from as large as 600x1200mm right down to tiny fish-scale shingles just 142mmx240mm, with 72-90 shingles per m2.
Casa del Acantilado in Spain with bespoke elZinc shingles. Photo via elZinc
4. Shingles can produce evocative effects
The wide range of choice of materials and colours, from smooth black NedZink NOIR to shiny Uginox Bright stainless steel, with their different textures and surface behaviour, give you a huge palette with which to achieve the effect you want.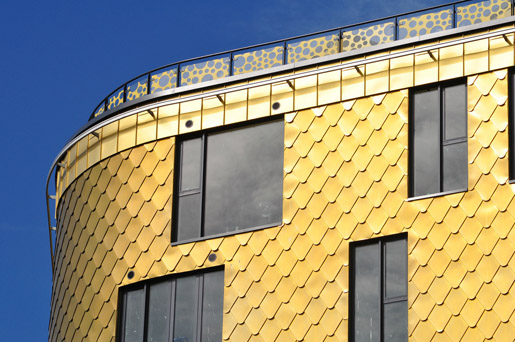 The Fold, Sidcup. Fish scale shingles in KME TECU Gold. Photo: KME

The Balancing Barn, Suffolk. Brick-like shingles in Uginox Bright. Photo: Aperam
Whether you're trying to evoke the grandeur of a Parisian mansard roof or channelling an animalistic form, zinc and copper shingles can give you a great deal of design freedom.
Design and Installation Process
As part of our full '8 Steps to a #PerfectRoof' service at SIG Zinc and Copper we will design the shingle layout along with the rest of the roof from the deck up. We can provide standard and bespoke detailing, and work with you and your contractor to get the desired effects whilst ensuring the quality and longevity of the installation.
Cost of Metal Shingles
The cost of zinc, copper and stainless steel shingles will depend on a number of factors including the metal choice, finish, size and orientation you require. Fewer larger shingles require less manufacture than a large number of smaller ones. Bespoke shapes and sizes can also be more expensive, but standard shapes can be considerably more cost effective. Talk to us about your budget and we can offer a range of options to suit the project and inform your design decisions.
Metal Shingles – Convenience and Confidence in the Supply Chain
As metal shingles are smaller than rolls and sheets, supplying them to site can be simple and convenient, even in the most challenging situations.
SIG Zinc and Copper is part of SIG Plc, one of the largest specialist construction product suppliers in Europe. Reliable supply is one of our great advantages, and we can work with you to ensure the products you need are delivered on programme in the format that suits your project.
For example the Amphibious house is built on an island in the Thames, and Baca Architects decided that the most effective way to get building supplies onto the island was to set up their own transportation system, rather than rely on existing boat services who might not always be available during a delivery. The choice of smaller shingles over larger panels helped in the success of this venture.
Installation of Zinc Shingles and Copper Shingles
Qualified, experienced contractors should carry out all zinc and copper installations. Make sure your contractor is a member of the Federation of Traditional Metal Roofing Contractors (FTMRC). Our accredited contractors (DATAC – who are also FTMRC members) can cover the whole roof build up including the substrate, which can give you convenience and peace of mind.
Maintenance and Guarantees for Zinc and Copper Shingle Roofs and Walls
One of the great advantages of using zinc and copper roofing and cladding is the virtual zero maintenance required after installation. Shingles also have a repair advantage over larger areas of sheeting. If there is damage, for example caused by a collision, a contractor can take off and replace just the affected shingles which results in reduced repair charges. Guarantees on our zinc and copper shingles are available up to 30 years. Get in touch to discuss your guarantee requirements.
More Information
We are the team at SIG Zinc & Copper. We design and supply zinc, copper, aluminium and stainless steel roofing and cladding products all over the UK. We also publish blog posts! We're part of SIG Roofing. With over 120 branches nationwide, SIG Roofing is the largest supplier of roofing materials in the UK, providing our customers with impartial advice on the right roofing solution for their projects.