Since we published our blog post on shingles there's been a huge response to the photos of the amazing cliff house, Casa Acantilado in Salobrena, Spain, so we thought we'd share more about the project with you here, together with more photographs.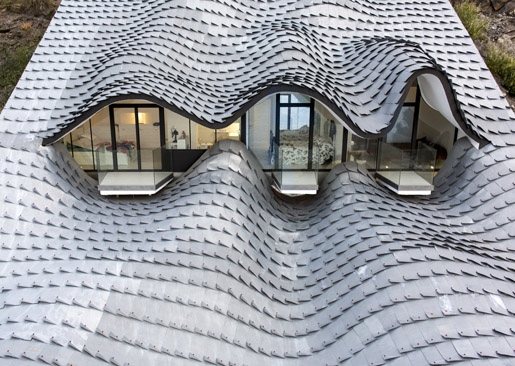 The house was designed by GilBartolome Architects. The practice is known for their innovative use of both modern technology and traditional techniques to create amazing architectural forms.
How Was the Casa Acantilado Roof Built?
Architect Jaime Bartolome has published some photographs of the construction of the zinc roof structure on his blog. These first layers are a network of rebar woven over strip steel curves at intervals up the roof pitch, supported on acrow props. On first inspection they look almost like they might be timber and woven willow, the forms are so complex.
This network of rebar was then cast into a single span, undulating reinforced concrete roof slab. The roof is finished with some fantastic zinc shingles made from elZinc® Natural, each with a turned-up corner to evoke a reptilian surface reminiscent of a horned viper.
Here are some more images of that amazing roof (supplied by elZinc®). Click on the images to see a larger version.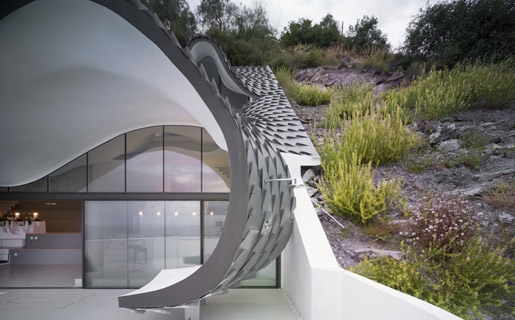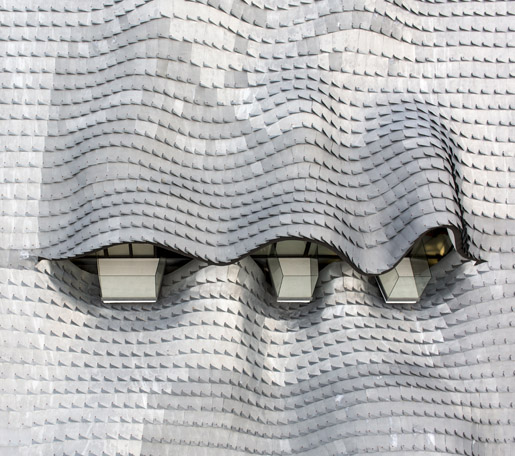 How could we build an undulating zinc shingle roof in the UK?
We spoke to category manager Simon Walker about the structure for the Casa Acantilado, and how it might be constructed in the UK. "Whilst it would be possible to cast such a complicated roof in a similar manner," he said, "it might also be possible to do something very similar using timber, with canted rafters, similar to a complex eyebrow roof. If the roof is to have a single curvature, flexible ply might also be a solution."
In either case, he stressed, it would be important to ensure the roof build up was correctly detailed with an appropriate substrate for the conditions and to meet UK building regulations. "We'd love to be involved in such a project in the UK, and our partners elZinc® would be happy to repeat," he said.
More Information
If you come across any more information on this project, why not share it in the comments below?
SaveSave
We are the team at SIG Zinc & Copper. We design and supply zinc, copper, aluminium and stainless steel roofing and cladding products all over the UK. We also publish blog posts! We're part of SIG Roofing. With over 120 branches nationwide, SIG Roofing is the largest supplier of roofing materials in the UK, providing our customers with impartial advice on the right roofing solution for their projects.